Power Distribution Board
with LEDs
(Fully Assembled PCB)
---
Product Use
This 12 VDC Power Distribution Board is designed to connect 11 fused branches with LEDs that indicate a blown fuse. Nine of the branches are for up to 20 Amp circuits. Two of the branches can handle 30 Amp circuits. Each branch has a socket for Littlefuse type 257 or Bussman ATC blade fuse (fuses not included). Battery input line has 3 fuse sockets for 30 Amp blade fuses (not included). Size of board is 3" x 4-3/4".
The 12 VDC Power Distribution Board can be used to protect sensitive automotive circuits from possible damage due to over current.
Any of the LEDs located on the PCB is ON when the specific Fuse is blown.
Features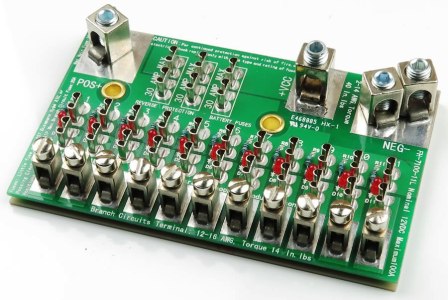 11 Fused Outputs
Fuse blown Monitoring LEDs
Nominal Voltage 12V
100 A total miximum load
---
Connections
INPUT
Vbb 12 VDC +
GND (Common System Ground)
OUTPUT
11 Vbb 12 VDC + (Fused)
GND (Common System Ground)
Product Specifications
Input source voltage (min/max)
VDS
8 / 16
V DC
Peak load current (max)
IL
100
A
Constant Load Current (min/max)
IC
100
A
Operating Voltage (recommended)
VC
12.3 to 14.4
V DC
Power Consumption (LED)
Pon
160 to 210
mW
Operating Temperature
Ton
20 to 140
-6 to 60
°F
°C
---
Pricing
US $50.00 each
Inquire for pricing and availability on purchases of 10 units or more
---
Related Products
---