Fuel Pump Priming Timer

for vehicles with


BOSCH L-Jetronic Fuel Injection
(

Fully Assembled Module

)
---
Product Use
This 12 VDC Timer Module is especially developed for Automotive use.
It is intended to be used on all vehicles with BOSCH L-Jetronic Fuel Injection System.
It is also used in OKA modular Fuel Injection System for Small Engines.
The 12 VDC Timer Module primes the Electronic Fuel Injection System (EFI) to full fuel pressure prior starting the engine, and this allows easy and instant starts no matter for how long the vehicle was parked or if it is hot or cold.
The BOSCH L-Jetronic Fuel Injection System as originally designed only switches on the Electric Fuel Pump once the Fuel Injection Control Unit senses "Air Flow" signal from the Air Flow Meter.
Also the BOSCH L-Jetronic Fuel Injection Systems Fuel System is designed to "hold" Fuel Pressure (usually at about 36 PSI) when the engine is turned off.
On older vehicles, or vehicles that have been parked for extended period of time, this Fuel Pressure is eventually "lost" and this makes the starting more difficult, especially at temperature extremes both hot or cold.
When "Ignition ON" signal at a typical automotive system voltage (10 VDC to 14.4 VDC) is applied to the 12 VDC Timer Module the Output is automatically turned ON for pre-set time interval through a high current Relay, and then goes OFF for as long as the "Ignition ON" signal is applied.
The 12 VDC Timer Module is used to provide power signal (12VDC +), which is used to prime the fuel pump when Ignition switch is first turned ON and before the engine is cranked to be started.
There is Status Indicator LED located on the Module:
Red LED is ON when the Timer Module is operational.
The 12 VDC Timer Module contains five to seven second Electronic Timer which is directly connected to electro-mechanical Relay with N/O 20A power contacts.
Timing is shorter, but net less than 5 second, when the module is hot, and longer, but not longer than 7 seconds, when the module is cold.
Features
Click on image to see enlarged image.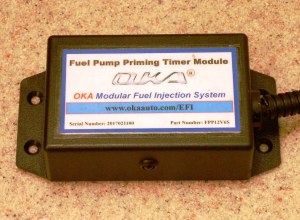 Generates Timed 12 VDC + Power signal
Timer Operational ON Monitoring LED (Red)
Nominal Voltage 12VDC
Common Negative Ground
Operating to Releasing Timing = 5 to 7 seconds
Over 10,000,000 Electronic Cycles Life
---
Connections
Click on image to see enlarged image.

INPUT / OUTPUT
Vbb = 12 VDC + Battery (connect through 20A fuse) Brown/White
Ign (Ignition ON Signal 12VDC +) Yellow/Red
OUT = To Fuel Pump + Green/White
GND (Common System Ground) Black
Product Specifications
Power Supply Voltage (min/max)
VBB
8 / 18
V
OUTPUT Load current (max)
IL
20
A
OUTPUT Signal Voltage (min/max)
VOut
VBB - 0.25
V DC
Power Consumption (ON)
Pon
300 to 320
mW
Operating Temperature
Ton
0 to 170
-18 to 76
°F
°C
Dimensions
108 x 53 x 30
4-1/4x2-1/8x1-1/8
mm
inch
Weight - Standard Module
Weight - HD Module
80
175
gram
---
Pricing
US $55.00 each - Standard Module
NOTE:
Standard Module is intended ONLY for installation on inside of the vehicle.
Standard Module is not suitable for high humidity or high vibration environment.
Fully potted HD Module, which is moisture and vibration proof is available for $75.00
Inquire for pricing and availability on purchases of 100 units or more
---
Applications
This Autotronic Module is used in OKA EFI System for Small Engines.
This Autotronic Module can be also used in any of the following vehicles OEM equipped with BOSCH L-Jetronic Fuel Injection:
1982 to 1989 Alfa Romeo GTV6s
1982 to 1989 Alfa Romeo Milano
1982 to 1989 Alfa Romeo Spider
1983 to 1989 BERTONE X1/9
Datsun 280Z and 280ZX
1979 to 1982 FIAT X1/9
1984 to 1989 Nissan 300ZX
TOYOTA Supra Mark 1
1983 to 1985 VW all models for USA with Fuel Injection
---
Related Products
---