Solid State Relay
Opto Isolated
4A SPST-NO
---
Product Use
This Solid State Opto Isolated Relay is especially developed for Automotive use as a bi-directional servo switch.
Low current (Typically 10 to 15 milliAmperes) through the Relay LED Opto-electronically switches ON a High current Load (up to 4A).
In constant ON applications it can carry up to 4 Amperes, while in pulsed applications up to 9 Amperes may be switched momentarily.
These devices have been reliably used since 2015 in following applications:
Audio Equipment
Power Supplies
Power Distribution
Instrumentation
Active Battery Balancing
Features

SSR4
Solid State = NO moving parts
Single Pole, Single Throw (Off/On, Normally Open)
Operating / Releasing Time ≤ 5 ms / ≤ 2 ms
LED Control Current 10mA @ 2VDC
Bi-Directional Current Flow
Load Voltage: 40V Maximum
On-Resistance: 0.05 Ohm Maximum
I/O Breakdown Voltage: 1500Vrms Minimum
---
Product Specifications

SSR4
| | | | |
| --- | --- | --- | --- |
| ON LED Current (max) | IF ON | 10 | mA |
| LED Forward Voltage | VF(on) | 2 | V |
| Continuous drain current TC = 25 °C | ID | 4.5 | A |
| Continuous drain current TC = 100 °C | ID | 4 | A |
| Pulsed drain current TC = 25 °C | ID | 9 | A |
| Power dissipation TC = 25 °C | P | 0.55 | W |
Typical Circuit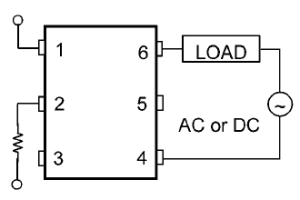 ---
Connection Diagram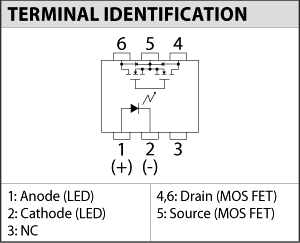 ---
Pricing
US $9.50 each
Inquire for pricing and availability on purchases of 100 units or more
---