Kill-A-Watt AC Power Meter
---

Kill-A-Watt P4400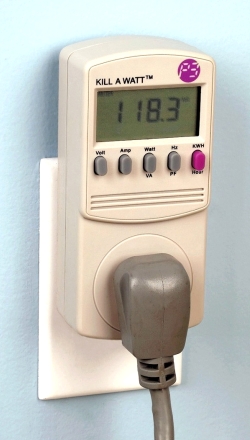 This amazing, easy-to-use device allows you to figure out your electrical use per EV charge or for any electrical device by the hour, day, week, month or year.
Displays Volts, Amps, Watts, Hz, and VA
Check power quality by monitoring line voltage (VAC)
Check device efficiency by monitoring Power Factor (PF)
Check power quality by monitoring line frequency (Hz)
Large LCD display shows accumulated consumption by kilowatt hour (kWh)
Continuously accumulates time from the moment it is plugged in
No Batteries, it is powered from the AC line
Easy to reset, just unplug for 3 seconds
Specifications
Display: Volts, Amps, Watts, Hz, VA, Cumulative Kilowatt-Hours
Operating Voltage: 115 VAC
Max Voltage: 125 VAC
Max Current*: 15 A
Max Power: 1875 VA
*Warning beeper will activate if the 15 A Maximum Current rating is exceeded
Item #
MAKE
Model
Color
Price*
P4400

P3

P4400

Ivory

$

25.00
Availability: In stock! Available for immediate delivery - Order now!
*) Price includes FREE Shipping and Handling in USA.
Send mail to okaauto@aol.com with questions or comments about this web site.
Copyright © 2012-2014 MIROX Corporation
Last Updated:








This web page was successfully Validated as: "HTML 5 with CSS 3" and tested in all above browsers