Circuit Breakers
---
Circuit Breakers
Type CB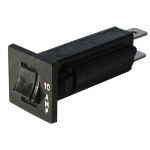 Click the above image to see enlarged image.
Circuit breaker is an automatically operated electrical switch which is designed to protect an electrical circuit from damage caused by overload or short circuit.
Its basic function is to detect a fault condition and interrupt current flow.
Unlike a fuse, which operates once and then must be replaced, a circuit breaker can be reset (either manually or automatically) to resume normal operation.
Specifications
Single Pole
Push-In Panel Mount
Push-to-reset
Max Voltage Rating: 32VDC or 250VAC
Dielectric Strength: 1.5 kV
Operating Temperature Range: - 20 °C to + 60 °C
Accutation Type: Thermal
Trip Time: 2.2 s to 15 s
Height: 19.31 mm
Width: 19.31 mm
Length: 38.99 mm
Mounting Style: Snap-mounts in 0.625" - 0.635" diameter cutout
1.90" behind-panel depth
Termination Style: combination 0.25" blade or solder terminals
Approvals: UL, CSA
---
Available Models
All available models are identical in all above specifications, except for the Trip Current Rating listed in table below:
Item #
Item Description
Color
Price
CB 0025

Circuit Breaker 0.25A

Black

$

8.50

CB 02

Circuit Breaker 2A

Black

$

7.50

CB 06

Circuit Breaker 6A

Black

$

7.50

CB 10

Circuit Breaker 10A

Black

$

6.50

CB 15

Circuit Breaker 15A

Black

$

6.50

CB 20

Circuit Breaker 20A

Black

$

5.50
Availability:
In stock! Available for immediate delivery - Order now!
---
Send mail to okaauto@aol.com with questions or comments about this web site.
Copyright © 2012-2014 MIROX Corporation
Last Updated:








This web page was successfully Validated as: "HTML 5 with CSS 3" and tested in all above browsers