Racing Steering Wheel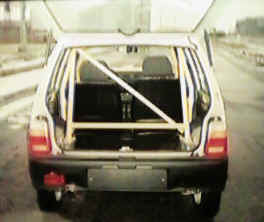 Standard Racing Rollcage
| | |
| --- | --- |
| | Other Features (All versions) |
Rack & Pinion steering gives a positive response with minimum of effort, so that power assist is not needed.
Vacuum assisted power braking system has diagonal dual lines for additional safety and features front discs and rear drums.
Brake system warning light is provided for "Parking Brake ON" and
"Low Brake Fluid" conditions.
Front Brake Pad lining thickness can be easily inspected without removal of the Alloy Wheels.
Single two-speed windshield wiper and windshield washer are easily operated with steering column-mounted lever.
Levels of Motor Oil, Transmission Oil, Coolant and Washer Fluid can be easily checked.
Battery is easily accessed, if replacement is needed.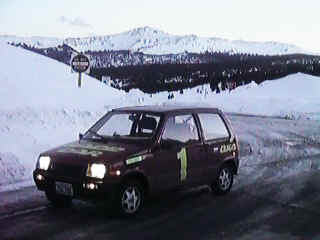 OKA RACE (Rally)
| | |
| --- | --- |
| | Other Features (Rally versions) |
H4 Rally Racing Headlights with Electronic Servo Adjustment of angle of beam while driving (Driver Adjustable)
Fire Extinguisher mounted under Driver seat
Full size spare tire & alloy wheel
Rear Glass Electric Defroster
Rear Window Washer and Wiper
Hi-Intensity Rear Fog Light
Side Markers and Reflex Reflectors FRONT & REAR
Front Marker/Turn Signal Combination Lights
Navigator Seat is "standard"
Cabin Heater and Ventilation Fan