YUGO 45A
---

Automobiles
YUGO 45A
YUGO 45A is available as O Scale (1:43) model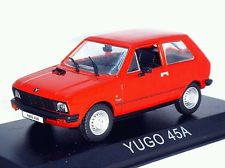 Item #
MAKE
Model
Model Years
Color
Price*
Y45A

YUGO

45A

1985

Red

$

40.00
Available from: MIROX Corporation
Availability: In stock! Available for immediate delivery - Order now!
*) Price includes FREE Shipping and Handling in USA.
---
Description
YUGO 45A small car (class A) designed in Yugoslavia in 1982 by ZASTAVA featuring a 820cc 4-cylinder engine.
The car was developed by ZASTAVA and based on FIAT mechanical components but with body that was unique to YUGO.
All production was done in Kragujavec, Serbia and fron 1986 to 1992 vehicles were produced for export to USA.
The car also was also exported to United Kingdom, France and Egypt.

This extremely low cost, lightweight and simple car, which had been developed as the "people's car" and served its purpose for over twenty years as a low-end transportation.
Series production of the YUGO was stopped in Serbia in 2008 when ZASTAVA released the last batch of YUGOs.