OKA 1111
---

Home | History |  OKA News Page |  OKA Mini Cars |  OKA Parts | Sitemap
Scale Models: Scale − 1:18 | O Scale − 1:43 | HO Scale − 1:87
Automobiles
OKA 1111
OKA 1111 is available as O Scale (1:43) model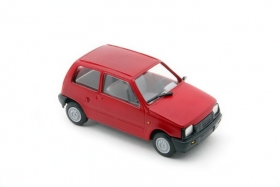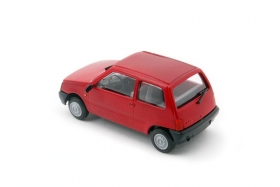 Item #
MAKE
Model
Model Years
Color
Price*
R1111

OKA

1111

1985-2008

Red

$

30.00
Available from: MIROX Corporation
Availability: In stock! Available for immediate delivery - Order now!
*) Price includes FREE Shipping and Handling in USA.
---
Description
VAZ-1111 Oka is a mini car (class A) designed in Russia in 1986 by AvtoVAZ featuring a 750cc SOHC 2-cylinder engine.
The car was developed by AutoVAZ, but it has never entered volume production there.
All production was sourced to SeAZ factory in Serpukhov and ZMA in Naberezhnye Chelny(formerly owned by Kamaz and now owned by SeverstalAvto).
There were plans to start production at the new plant in Yelabuga which never materialized.
The car also was produced in Azerbaijan by the Gyandzha Auto Plant.

The name comes from the Oka River in Russia upon which Serpukhov is situated.

This extremely low cost, lightweight and simple car, which had been developed as the "people's car" and served its purpose for over twenty years as a low-end transportation.
Series production of the OKA was stopped in Russia in 2008 when SeAZ released the last batch of OKA's with Chinese EURO-2 engines.

The OKA in America
As of 2005, an American company called OKA AUTO USA, based in Las Vegas, Nevada, offers electrically-powered OKAs for the US neighborhood electric vehicle (NEV) market called the OKA NEV ZEV.
To conform to FMVSS #500 regulations (LSV), the electric Oka's speed is limited to 25mph.
The vehicle is still being manufactured in USA and is currently available as 2018 model.