SAE J1772 Charging Option
Option shown on this page is available for all Model Years of OKA NEV ZEV.
---
Option Description
SAE J1772 is a North American standard for electrical connectors for electric vehicles, it is maintained by the Society of Automotive Engineers and has the formal title:
"SAE Surface Vehicle Recommended Practice J1772, SAE Electric Vehicle Conductive Charge Coupler".
SAE J1772 covers the general physical, electrical, communication protocol, and performance requirements for the electric vehicle conductive charge system and coupler.
The SAE J1772 Standard defines a common electric vehicle conductive charging system architecture including operational requirements and the functional and dimensional requirements for the vehicle inlet and the mating charger connector as shown below: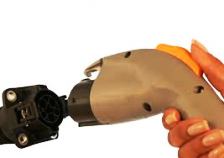 SAE J1772
Vehicle Inlet and mating Charger Connector
When OKA NEV ZEV is equipped with this Option, it can be charged from any J1772 Standard charger under either Level 1 (120V AC) or Level 2 (240V AC) Charging Specification of the Standard.
The operation is completely automatic as the existing Delta-Q on board charger is already programmed to charge the Traction Batteries from any AC voltage source ranging from 90 V to 250 V.
The only action required by the vehicle operator is to toggle the J1772 Enable Switch to "ON = Charge" position after the J1772 mating Charger Connector is plugged into the Vehicle Inlet Socket.
With this Option installed the Original Equipment 120 V AC household type socket is still retained on the OKA NEV ZEV, and therefore you can still charge your vehicle at home as usual.
This Option allows you to utilize any FREE or "Pay-per-Use" J1772 Public or Private Charger.
---